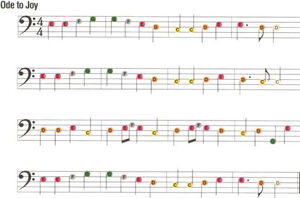 The circles that appear in the background of this track match the notes on the sheet music for the song of the same name.
"Ode to Joy" (German: "Ode an die Freude", first line: "Freude, schöner Götterfunken") is an ode written in 1785 by the German poet, playwright and historian Friedrich Schiller, celebrating the ideal of unity and brotherhood of all mankind. It is best known for its musical setting by Ludwig van Beethoven in the final movement of his Ninth Symphony (completed in 1824), a choral symphony for orchestra, four solo voices and choir.
Although not an easter egg, it's still significant enough to be included here.