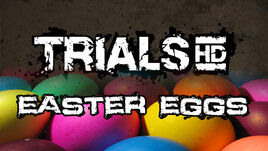 Welcome to the Wiki
[
]
Trials HD is an Xbox Live Arcade game that was released in August 2009 and has sold over 2 million copies worldwide.
In addition to its addictive gameplay, there are a large number of secrets and easter eggs hidden throughout the various tracks. This Wiki has been created to collate all available information about the individual secrets, with the final goal being to solve the Trials HD Riddle (the larger meaning/connection between all of them).
Update - the Riddle is solved!
[
]
On April 10th, 2012, the Riddle was officially solved and put to rest in a video created by FatShady and uploaded to the official RedLynx YouTube channel. This marks the end of many months of meticulous research and study conducted by the incredible RedLynx community.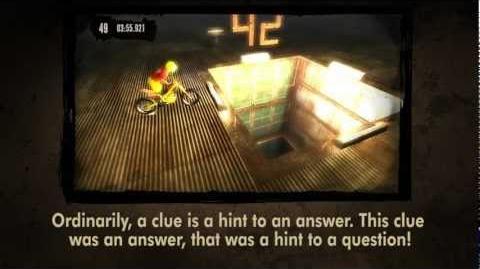 While we couldn't answer the riddle in our own words, we involuntarily answered it with our actions and efforts. This wiki stands to prove the lenghs reached in an effort to find the answer.
We can only hope that ANBA will come back with an even tougher riddle to crack in Trials Evolution.
Special thanks to ANBA for suggesting this and supporting the forums with cryptic and somewhat helpful messages. All original discoveries were taken from the Trials HD forum [Easter egg thread]. This site does not claim to have discovered any of these easter eggs. Full credit to LostNr and the others who have contributed to the thread over the past year.
All recent changes on the THD Secrets Wiki can be found here. Also, please feel free to contribute if you have any information or screenshots you'd like to share!
Want to write a new page or overhaul an already existing page? Just follow this handy guide and you'll be all set!
Track Listing
[
]
Easter egg
Squirrel
No egg
Non-Track Easter Eggs
[
]
Trials HD Promotional Videos
Summary of all Significant Easter Eggs
[
]
A compiled collection of every significant easter egg (a.k.a. an egg that is unique and appears to have a larger meaning) can be found here. Please note that this purpose of this page is to compile our total knowledge and may look disorderly.
Here is a post from Kotaku Australia that sums up the progress made to date quite well.